Llangollen Fringe Festival 2022 Preview
Wrexham Events Guide is proud to preview the upcoming Llangollen Fringe Festival. 22nd July to 30th July 2022
Learn more about the festival and explore the full programme of events.
About the Festival
Llangollen Fringe Festival will this year celebrate its 25th anniversary, with a bumper edition of the town festival, from the 22nd to the 30th July, which promises to be the biggest yet by far!
Headlining acts announced include:
ROGER ENO – a renowned composer, pianist and pioneer of 'ambient music', Roger Eno has recorded and released many albums of his work, including the acclaimed 'APOLLO' in 1983 a collaboration with his brother BRIAN ENO as well as 2020's 'Mixing Colours', the duo's striking collaboration, released in 2020. For the Fringe Festival, Roger Eno will perform music from these works and his most recent solo album 'The Turning Year' Joining Roger Eno at the festival are; International legends THE TURBANS, with members from Turkey, Bulgaria, Israel, Iran, Greece and England who bind together music from 'manywhere' whom BBC 6 Music's MARK RADCLIFFE described as "really a force of nature", rocking supergroup WARMDUSCHER, who bring together members of bands such as: FAT WHITE FAMILY and INSECURE MANY and have been selling out venues across the UK and Europe with their incendiary live show. Rounding off the week are the ground-breaking, chart-topping, genre-bending, instantly enthralling, supercharged Scottish trad trio TALISK on Friday 29th and London's EBONY STEEL BAND on Saturday 30th, the legendary Steel Drum ensemble perform their much-loved album PAN MACHINE, a hugely entertaining interpretation of the classic KRAFTWERK album 'Man Machine' in its entirety, which includes seminal hits such as 'The Model' and 'The Robots" There is also a welcome return for stand-up comedy – with 'THE CHASE' star PAUL SINHA headlining the opening night of the festival, as well as new venues being incorporated into the official festival line up with Gales Wine Bar, The Bridge End Hotel and the Three Eagles Restaurant hosting live events throughout the week with even more events to celebrate the 25th year, still to be added.
Llangollen Fringe Festival will take place 22nd to the 30th of July. Tickets for all headline shows are on sale now, as well as Festival passes. Priced at just £75 the festival pass allows access to all of the main events across the nine days so is great value for money.
Festival tickets and dates and times for all concerts and events are available from www.llangollenfringe.co.uk or by calling the Fringe box office: 0800 1455 779
Keep up to date with Llangollen Fringe using the Icons below
---
Full Festival Programme
Festival Ticket
Event Date Fri-22-Jul 7:00 pm
Event End Date Sat-30-Jul 11:00 pm
Individual Price £75.00
Tickets: Link
Festival Tickets give you entry to all our Main and Around Town Events. They don't, however, include for special events or some workshops (eg Band for a Day).
---
Comedy Club Finale '22
Event Date: Fri-22-Jul 7:30 pm
Individual: Price £15.00
Location: Llangollen Town Hall
Tickets: Link
The Grand Finale to our Comedy Season. Compered by the ever-hilarious and musical Silky, he'll be introducing the highest quality comedians off the circuit leading up to our headliner – Paul Sinha. More details will follow as soon as the bookings are confirmed.
---
A Gathering of Folk – Act I & Act II
Event Date Sat-23-Jul 12:00 pm
Event End Date Sun-24-Jul 7:00 pm
Individual Price £15.00
Location Bridge End Hotel
Tickets: Link
Andy Hickie & Chris Ingram return to host two days of some of the finest acoustic, folk, spoken word and a showcase of great finest songwriters from all corners of the UK. Upstairs at the Bridge End
This ticket entitles you to entry on BOTH days. See individual events for lineups
---
A Gathering of Folk – Act I
Event Date Sat-23-Jul 12:00 pm
Individual Price £10.00
Location Bridge End Hotel
Tickets: Link
Line up for act I
1:00pm – 1:30pm – Chris Ingram
1:45pm – 2:15pm – Matt Nicholls & Rachel Lloyd
2:30pm – 3:00pm – Serah Zyborska
3:15pm – 4:45pm – Martin Daws
5:00pm – 5:30pm – Terry Allen
5:45pm – 6:15pm – Jackson Williams
6:30pm – 7:15pm – Catrin O'Neal & Jonathan Davies
---
The Turbans
Event Date: Sat-23-Jul 7:30 pm
Individual: Price £15.00
Location; Llangollen Town Hall
Tickets: Link
Really ebullient and infectious stuff … they are really a force of nature. Go see them if you get a chance." Mark Radcliffe, BBC Radio 6 Music
International legends The Turbans bind together musics from 'manywhere' with their interstellar live show which ignites the crowd. Sonically huge and visually arresting, they are a powerhouse of talent, bringing their vibrant and unique sound to audiences who can do nothing more than smile, dance and shout for joy.
Growing from the intertwining paths of many talented musicians travelling the world, this extraordinary project has grown in a few years from very humble beginnings, into a progressive name on the London music scene. Its members have gathered from countries such as Turkey, Bulgaria, Israel, Iran, Greece and England to perform in concerts and festivals around the UK, North America, Middle-East, Hong Kong, India and Europe.
Their aim is to bring music to the people, young and old alike, mixing vibrant spontaneity and authenticity with multi-genre instrumental and vocal excellence.
---
A Gathering of Folk – Act II
Event Date Sat-24-Jul 12:00 pm
Individual Price £10.00
Location Bridge End Hotel
Tickets: Link
Line up for or act II
1:00pm – 1:30pm – Andy Hickie
1:45pm – 2:15pm – Yasmine Latkowski
2:30pm – 3:00pm – Tom Emlyn
3:15pm – 4:45pm – Igloo Hearts
5:00pm – 5:30pm – William Douglas
5:45pm – 6:15pm – Amy Antrobus
6:30pm – 7:15pm – Later Youth
---
Horse Drawn Musical
Event Date Sun-24-Jul 6:00 pm
Individual Price £15.00
Location Llangollen Wharf
Tickets: Link
Climb aboard this wonderful craft and be drawn from the wharf up to the source of the Llangollen Canal by a magnificent Shire Horse, and be entertained by some soothing music en route! Explore the Horseshoe Falls, take a stroll across the recently refurbished 200 year old Chain Bridge, or just enjoy a drink in the Hotel, it's up to you! After this short stop, the boat will return you to the town in time for the evening concert in the Town Hall. There will be wine available for purchase on the boat but bring your own beer or soft drinks if wine doesn't suit!
50% discount for Festival Ticket Holders!
---
Band for a Day – Concert
Event Date Sun-24-Jul 7:30 pm
Individual Price £6.00
Location Llangollen Town Hall
Tickets: Link
Join the fun celebrating the hard work put in the days' workshop by the mentors and participants. An energetic mix of ages putting on professional entertainment on our main stage. Children under 14 are Free!
---
Roger Eno
Event Date Mon-25-Jul 7:30 pm
Individual Price £20.00
Location Llangollen Town Hall
Tickets: Link
Roger Eno grew up in the idyllic setting of Woodbridge, Suffolk, with an East Anglian postman father and a Flemish mother, who gave he and his younger sister "one room of the house, which was devoted to whatever we children wanted to do. We could write on the walls, there was a sandpit, there was a busted-up piano we could knock seven bells out of. The town had a lovely river, so there was swimming, great places to cycle, and it was perfectly acceptable for a child to leave in the morning and not turn up till tea time." It's therefore little surprise he continues to live in the same locale, spending spare time wandering the countryside on foot or by bike. "What keeps me in a not entirely enlightened country is my continuing love of the area in which I live".Like its bucolic, tranquil qualities, a timeless character is key to the magic of Roger's music. That's as true of 1983's Apollo: Atmospheres And Soundtracks – which, composed with his brother, Brian Eno, and producer Daniel Lanois, launched his recording career – as it is of The Turning Year, his debut solo album for Deutsche Grammophon, due on April 22nd, 2022. Recorded during summer, 2021, largely at Berlin's legendary Teldex Studio and in part at the studio of producer Christian Badzura (also the label's Director of New Repertoire), it's an album of grace, purity, melancholy and solace which showcases his free-flowing inspiration and deeply affecting compositions.The Turning Year follows 2020's Mixing Colours, his first full-length album recorded exclusively with his brother and compiled from pieces Roger had shared for over 15 years with Brian, who worked on them further with his own renowned digital enhancements. It was released in the same month that the Covid pandemic forced global lockdowns, when it swiftly became a staple of people's newly muffled lives.Now, with The Turning Year, there's no escaping the fact that, though he's never sought it, Roger Eno is in the spotlight.
---
Jazz at The Fringe – Zoe Gilby Quartet with special guests: So What Now
Event Date Tue-26-Jul 7:30 pm
Individual Price £10.00
Location Llangollen Town Hall
Tickets: Link
Zoe Gilby
Winner of Parliamentary Jazz Awards Jazz Vocalist of the Year 2019 Zoe Gilby's "Aurora" album is out now.
Inspired by the instrumental compositions of award winning, Grammy nominated U.S trumpeter Tom Harrell.
Zoë Gilby is a vocalist and songwriter, making a stunning impression on the music scene today. Her compelling original compositions are written with double bassist husband Andy Champion. A powerful collection of songs with a strong narrative. Supported by guitarist Mark Williams and drummer John Bradford they deliver a commanding mix of musical sophistication and dramatic edge. An engaging repertoire of story telling and atmosphere, her stockpile of music also includes an adventurous blend of contemporary composers from Kate Bush to Pink Floyd and the sensitive treatment of jazz standards, completes this particular "story-book" Touring the UK and internationally, she continues to perform at prominent jazz festivals and venues.
Vocals – Zoe Gilby
Guitar – Mark Williams
Double Bass – Andy Champion
Drums – John Bradford"
A mix of intelligent original songs and innovative arrangements of tunes by both jazz and pop composers. It's the quality of the original songs that make this jazz vocal album stand out from the pack.
"The Jazz Mann Album: Twelve Stories
"Spirited songs with a certain gritty personality poking through."Marlbank Album: Twelve Stories
"Deserves wider recognition and a major record deal. An excellent CD."Courtney Pine BBC Radio 2 Album: Now That I am Real"
A Wonderful CD" Sheila Jordan Album: Looking Glass
"Sparkling debut by an exuberant singer whose lively personality comes across on every track. Sheer enjoyment throughout."Jazz UK Magazine Album: Now That I am Real"
A wide vocal range, warm timbre and clear diction which she uses skilfully to unveil her moods. It's clear that she's already found her own voice."All About Jazz, USA"
Talent, skill and a beautiful voice."Mod Radio, MADRID
So What Now
SO WHAT NOW are a highly entertaining quintet who present jazz standards, classic Latin grooves & blues with their own brand of vibrancy, humour and most importantly with a whole lot of swing !
Their varied programme features popular well known tunes but always with a few surprises thrown in, including bebop and cool West Coast jazz.
The front line is the classic saxophone and trumpet combination complemented superbly by piano, upright bass and drums.
There is considerable talent and a wealth of experience within the band which is acclaimed by their highly appreciative audiences.
As well as performing on their own gigs, they have always been keenly involved in the running of jam sessions, giving playing opportunities over the years to many local musicians. This is something they strive to encourage.
An excellent band not to be missed…
---
Warmduscher
Event Date Wed-27-Jul 7:30 pm
Individual Price £17.50
Location Llangollen Town Hall
Tickets: Link
Warmduscher
Have never taken to the term "supergroup", but it's safe to say that their unique, potent blend of raw musicianship, down 'n' dirty rock riffs and devil-may-care party attitude was borne from the union of Clams Baker and The Witherer of Paranoid London; Quicksand of Fat White Family; and Mr. Salt Fingers Lovecraft & Kid Whispers, hailing from Insecure Men.
Clams Baker III – vocals
Benjamin Romans Hopcraft aka Mr Salt Finger Lovecraft – bass
Adam Harmer aka Quicksand – guitar
Marley Mackey aka Kid Whispers – keyboards
Quinn Whalley aka The Witherer – noises
Bleu Ottis aka Baby Bleu – drums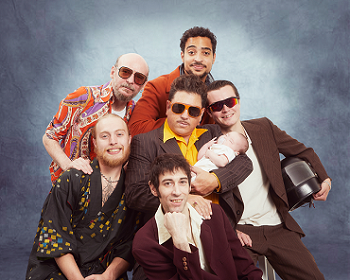 Red Telephone
Hailing from Cardiff, Red Telephone make layered neo-psych at-rock combining angular guitars, Kraftwerkian-inspired rhythms and New Wave-tinged synths all mixed with masses of melodic melancholy. Red Telephone have caught the attention of Steve Lamacq, Gemma Bradley, Chris Hawkins, Huw Stephens, Charlie Ashcroft, Gideon Coe and Bethan Elfyn with comparisons to the likes of MGMT and Bowie being drawn. Their second single 'Victoria Park' was released on Libertino Records' Ghost Disco Singles Club and, after playing Tallinn Music Week, FOCUS Wales and Other Voices in 2019, their tracks, 'Day Off' and 'Kookly Rose' were released as a double a-side vinyl by Popty-Ping Records at the end of 2019. The band have played Tallinn Music Week and Swn Festival in recent years and are due to play FOCUS Wales in May 2022.
---
Martin and Eliza Carthy
Event Date Thu-28-Jul 7:00 pm
Individual Price £17.00
Location Llangollen Town Hall
Tickets: Link
Martin Carthy & Eliza Carthy – Nominated 'Best Album' BBC Radio 2 Folk Awards 2015Lifetime Achievement Award – BBC Radio 2 Folk Awards 2014 Martin is a legendary ballad singer and guitarist who has influenced generations of artists, including Bob Dylan – with whom he shared an 80th birthday celebration in May 2021 – and Paul Simon, while Eliza has been twice-nominated for the Mercury Music Prize and a multiple-award winner at the BBC Radio Two Folk awards.
For almost 60 years, Martin Carthy has been one of folk music's greatest innovators, one of its best loved, most enthusiastic and, at times, most quietly controversial of figures. His skill, stage presence and natural charm have won him many admirers, not only from within the folk scene, but also far beyond it.
Trailblazing musical partnerships with, amongst others, Steeleye Span, Dave Swarbrick and his award-winning wife (Norma Waterson) and daughter Eliza Carthy have resulted in more than 40 albums, as well as ten solo albums. Whether in the folk clubs (which he continues to champion), on the concert stage or making TV appearances, there are few roles that Martin Carthy hasn't played. A ballad singer, a ground-breaking acoustic and electric-guitarist and an authoritative interpreter of newly composed material. He always prefers to follow an insatiable musical curiosity rather than cash in on his unrivalled position.
Perhaps, most significant of all, are his settings of traditional songs with guitar, which have influenced a generation of artists, including Bob Dylan and Paul Simon, on both sides of the Atlantic.`Arguably the greatest English folk song performer, writer, collector and editor of them all' – Q Magazine
Eliza Carthy, who marks her 30th year as a professional musician in 2022, is undoubtedly one of the most impressive and engaging performers of her generation. Twice nominated for the Mercury Prize and winner of innumerable other accolades over her career to date, Eliza has performed and recorded with a diverse array of artists including, Paul Weller, Rufus and Martha Wainwright, Patrick Wolf and Bob Neuwirth. More than most, Eliza Carthy has revitalised folk music and captured the most hardened of dissenters with intelligent, charismatic and boundary-bending performances.
Eliza grew up immersed in the world of traditional music. She still divides her time between touring and recording as well as engaging in numerous pioneering solo and band projects, such as The Wayward Band and more recently, Restitute, inspired by her last solo album.
'Eliza Carthy is one of the figureheads of the English folk revival … compelling' – Evening Standard
'A gloriously natural singer' – Q magazine
'Seriously impressive' – Telegraph
'…brave and anything but predictable' **** 4 Stars – The Guardian
---
Talisk
Event Date Fri-29-Jul 7:30 pm
Individual Price £15.00
Location Llangollen Town Hall
Tickets: Link
Talisk
Ground-breaking, chart-topping, genre-bending, instantly enthralling… it's little wonder that Talisk rank highly amongst the most in-demand folk-based groups to emerge from Scotland in the last decade.
Alongside extensive touring, and appearances at leading festivals across multiple continents, Talisk have stacked up major awards for their explosively energetic, artfully woven sound. Mohsen Amini, Graeme Armstrong and Benedict Morris fuse concertina, guitar and fiddle to produce an innovative, multi-layered signature that captivates audiences worldwide. At its core, three seemingly acoustic instruments – in the hands of three master craftsmen; one unmistakable, bold sound and captivating live show.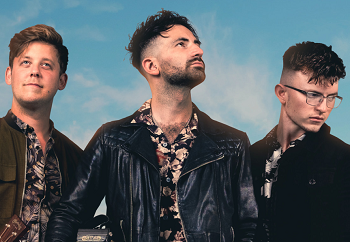 Grubb & Eedens
After years of performing together in various projects and as a duo, David Grubb and Darren Eedens have brought together their unique style and influences to create Grubb & Eedens. Having shared stages in the UK and Europe, as well as notable festivals such as SXSW, Cambridge Folk Festival, Black Deer Festival, and Focus Wales, this new project is destined to find its way to many more exciting places. Old traditions, from across the Atlantic, with new twists and influences will bring out sounds of Celtic, Folk, Americana, and Bluegrass. Banjos and fiddles drive the sound, while unique style and writing keeps listeners wanting more.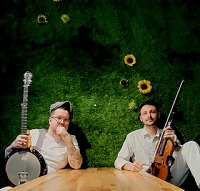 ---
Ebony Steel Band
Event Date Sat-30-Jul 7:30 pm
Individual Price £15.00
Location Llangollen Town Hall
Tickets: Link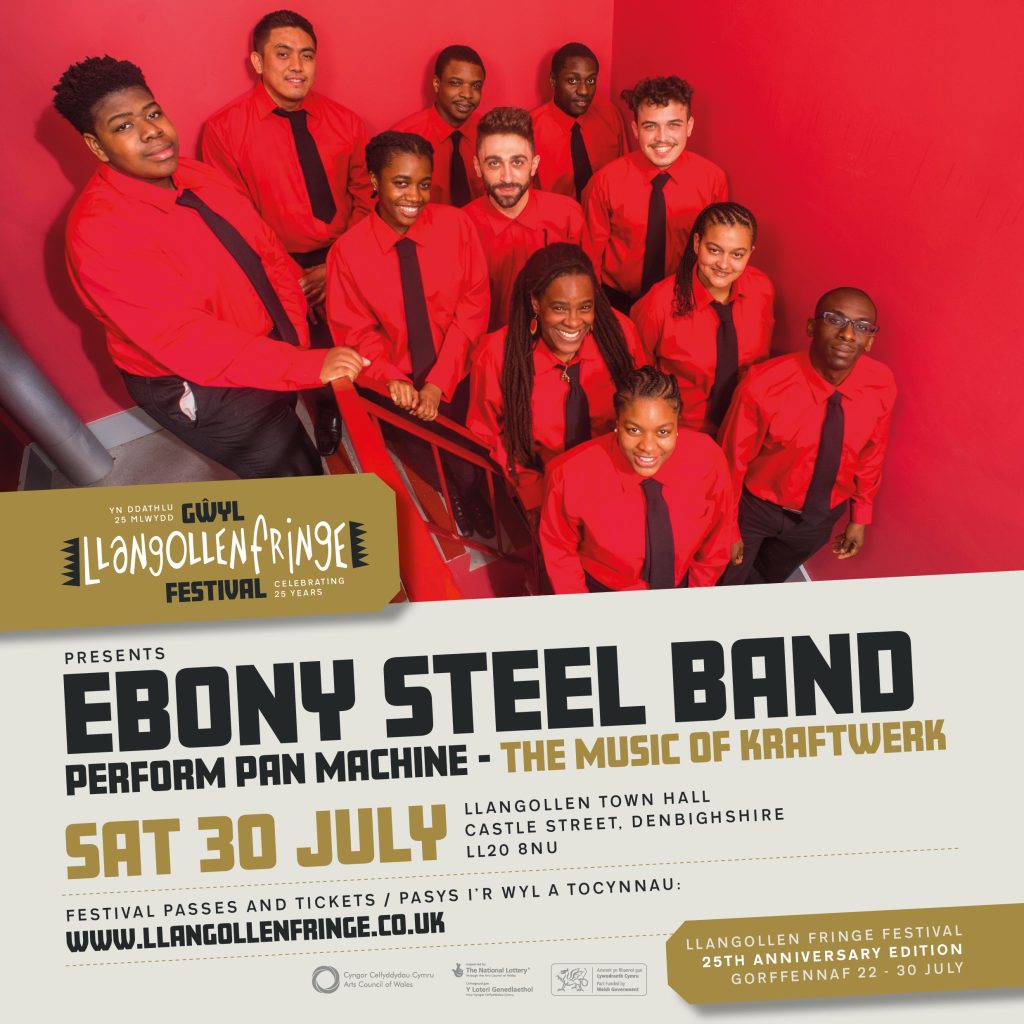 Ebony Steel Band perform 'PAN MACHINE' the music of KRAFTWERK
Ebony Steel band is one of Europe's leading steel band and one of the first steel bands set up in the UK.
The band was founded in 1969 by a group of dedicated Caribbean and British men and women who shared a love of steel bands and steelpan music and wanted to promote steelpan music across the UK and Europe.​
Ebony was awarded the Queen's Award for serving the community for over 18 years.
The legendary Ebony Steel Band took up record producer Ian Shirley's challenge to interpret classic Kraftwerk tracks on steel pans. Seminal electronic songs like The Model, Spacelab, Neon Lights, Tour De France, The Robots, Computer Love and Computer World were arranged for the Ebony line-up taking a metal on metal instrumental approach to Kraftwerk's visionary music. Shirley also got Ebony to take on older material like Europe Endless, Kometenmelodie 2 as well as Tanzmusik. The album Pan Machine was released on his OM Swagger label (www.omswaggermusic.com) in 2019, receiving fantastic reviews across the board from Record Collector to Electronic Sound.
Recorded in two sessions at The Pool in Elephant and Castle in April 2018 and 2019 this LP is essential for fans of Kraftwerk, electronic music and steel bands. The album is called Pan Machine as 'Pan' is another name for a steel drum.